Transport

Dozens of cones were thrown into the Charles River over the weekend.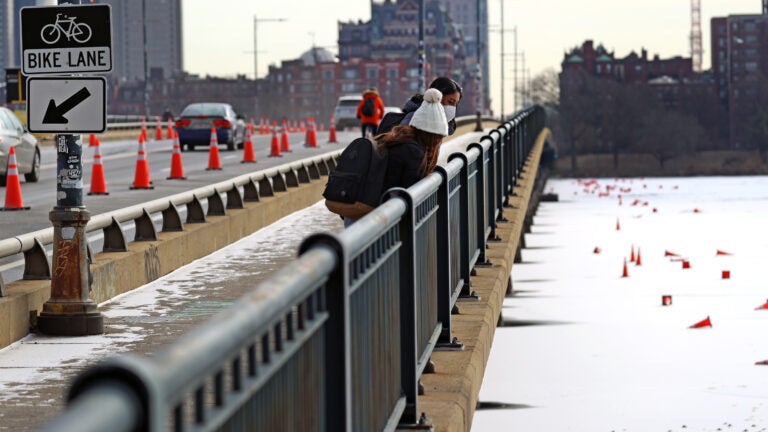 Over the weekend, dozens of traffic cones located on the Massachusetts Avenue Bridge mysteriously ended up in (and on) the Charles River.
Both Friday and Sunday night, vandals moved the cones, according to a statement from the Massachusetts Department of Transportation (MassDOT).
"A large number of the cones in place for the Massachusetts Avenue Bridge Bicycle Pilot were vandalized by being thrown into the Charles River, disrupting traffic, scattering the river and endangering all road users," said Kristen Pennucci, MassDOT's communications director, in a statement. declaration.
The cones have since been replaced.
In November, MassDOT launched The Massachusetts Avenue Bridge Bicycle Pilot program, which turned the four-lane road that crosses Charles into a two-lane road with bike lanes on both sides. The cycle paths are separated from the traffic by means of cones.
According to Pennucci, the bike lanes are not separated from the traffic in a more permanent way yet, because "this is a pilot to evaluate the long-term impact of a larger and more permanent bike path on the bridge."
"MassDOT asks anyone with any information to contact law enforcement and remember that these cones provide a crucial safety feature while the pilot continues and a permanent treatment can be developed," Pennucci said in the statement.
The bike lane pilot program is part of an effort to make it safer to ride a bike on Massachusetts Avenue. The cones and temporary signs will remain in place through the winter months to evaluate the impact of the plan.
Jonathan Gulliver, the state highway administrator, tweeted Monday, asking members of the community to report any information to law enforcement.
"This poses a danger to all road users and pollutes Charles," Gulliver tweeted.
Subscribe to newsletter
Stay up to date on all the latest news from Boston.com