In Melbourne's south-east, members of a cricket club recently joined forces to mow their local oval. Fifteen members of Hampton's HSD Cricket Club brought their own lawn mowers and whipper snippers to clean up the overgrowth at KM Reedy Reserve, according to 3AW.
Councils including the City of Melton and the City of Whittlesea have set up dedicated webpages with live updates on mowing schedules to keep residents informed, and have asked for patience from the community.
The riverside councils of Moonee Valley and Maribyrnong said their maintenance teams had been redirected to flood and disaster relief over the past six weeks.
"There's still work to be done," said Moonee Valley mayor Pierce Tyson. "Our team [mowing] down at the river say if we have three days of dry weather we can get substantially through the backlog of overgrown grass."
Some councils have adopted more novel approaches to tackling the grass. The City of Yarra last month starting an electric robotic mower trial in its parks.
Municipal Association of Victoria president David Clark said the poor weather had compounded the difficult budget conditions for local councils.
Councils mowed under
Melton: Received 1295 mowing requests in October, November numbers on track to be similar. More than 100 staff have worked 464 hours of overtime over the past month and the council is recruiting more staff.
Moonee Valley: Received 215 requests over the past month. Has 20 staff dedicated to mowing, with 16 ride-on mowers and four tractors.
Maribyrnong: Working through over 90 inquiries regarding long grass on top of flood damage repairs and regular maintenance.
Hobsons Bay: Has received 184 enquiries about long grass since November 1. Parks maintenance team comprises 20 people, with two extra temporary staff to deal with backlog.
Frankston: Says it "endeavours to have everything back on track by Christmas" if conditions remain dry enough.
"It's no secret many councils are in a position where their budgets are stretched at the moment," Clark said.
"In the current rate-capping environment, there's very little contingency in budgets for additional maintenance, the kind that has been critical after the flooding many communities have dealt with this year."
While councils are responsible for maintaining local roads, the Department of Transport mows major roads and has around 1000 mowing jobs scheduled between now and Christmas, with about 100 subcontractors working each day.
Andrew Hamilton's crew from not-for-profit maintenance subcontractor Good Cycles, which mow along the Western Ring Road, Tullamarine Freeway and Princes Freeway, were cutting the grass along the Pascoe Vale Road median strip last week. It hadn't been maintained in six months due to wet weather and staff shortages.
"It's just been hard going," said Hamilton. "The grass is high. We're worried about getting bogged as well. You don't want to take mowers in and then have to get them towed out. We've had staff issues as well, being able to get enough mowers."
He said the parts of the road that were mowed two weeks ago were already long enough to warrant mowing again, and predicted the fight to continue well into summer.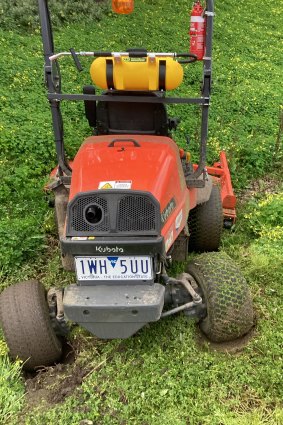 "You've still got dampness underneath and once we get some sun I think it's just gonna go crazy," he said.
Demand for mowing services is so strong in Victoria that the Jim's Mowing franchise has had to knock back a third of all inquiries for November, or just over 2400 jobs.
There are about 1000 people working under the franchise, and the demand is still, "far more than we can cope with", according to founder Jim Penman.
Penman said there were mowers that were able to cut wet grass, and his crews would only stop working in the heaviest rain. "Our people are extremely persistent – unless there's a torrential downpour, I never stopped for rain," he said. "Just chuck a waterproof hat on."
The Morning Edition newsletter is our guide to the day's most important and interesting stories, analysis and insights. Sign up here.